Europa Road will trial its first Electric Vehicle (EV) on its domestic distribution fleet, marking the next step in the company's decarbonisation journey.
This comes at a time when the International Energy Agency (IEA) is calling for the rapid deployment of electric trucks, needed to meet its Net Zero Ambitions Scenario by 2050. The trial, arranged by contract hire company Vertellus and its partner RH Commercial Vehicles, will provide Europa with valuable insight on making its future fleets more sustainable.
Europa is the first to trial the Vertellus' EV Discovery Programme, which aims to actively support customers' low carbon agenda and provide a full in-life support service for all electric trucks. The programme aims to provide continual support for fleets gradually transitioning to sustainably fuelled vehicles. The business needs and sustainability goals are identified and matched with the appropriate transition plan which includes vehicles, charging facilities and a wraparound care service.
As the UK's dedicated road freight division for fast-growing logistics operator Europa Worldwide Group, Europa Road has taken delivery of a Renault Trucks E-Tech 18-tonne vehicle.
Acquisition of this truck follows recent significant upgrades to Europa's fleet with top spec Renault Trucks T tractor units with improved comfort credentials for drivers.
Operations Director at Europa Worldwide Group, Dan Cook, said: "It's been highlighted by the World Economic Forum that shipment transportation accounts for 24 per cent of net carbon emissions and it has therefore been a long-held ambition of Europa's to adopt technologies that will help reduce our carbon emissions.
"Europa Road's participation in Vertellus' EV Discovery Programme marks the start of our transition to becoming a more sustainable logistics operator. The 'try-before-you-buy' programme gives us an opportunity to explore the strengths and limits of this technology, identifying where it can be most useful to us and will also provide us with knowledge on how we can adopt similar technologies into our future fleets, both domestic and international."
The company will trial the EV from its £30 million state-of-the-art groupage 1hub in Dartford. It will travel domestically, across Europa's expanding UK network.
Nigel Baxter, Managing Director at Vertellus, said: "Compared to diesel vehicles, there is a lot more to think about with EV contract hire. The purpose of the Discovery Programme is to remove the complexity and hassle out of the energy transition, so operators like Europa Road can accelerate the process of reducing their carbon footprints.
"We realise the introduction of EVs into fleets is a huge investment for operators, particularly for industry-leading Europa Road. Vertellus, with the support of trusted Renault dealership RH Commercial Vehicles, is providing Europa with the opportunity to try out EVs, testing the technology in their own day-to-day environment, before undertaking further investment.
"While the transition to EVs will likely occur in stages, it's collaborations with forward-thinkers like Europa that will set a precedent for future acceleration of sustainable freight travel."
Europa Worldwide Group is an ambitious independent logistics operator with three divisions, Europa Road, Europa Air & Sea, and Europa Warehouse, and has been featured in The Sunday Times Top Track 250 for three years. Europa has invested £5 million in its innovative market-leading product, Europa Flow, providing a frictionless flow of goods between the EU and the UK post Brexit. The group employs over 1,400 people with 29 international sites in the UK, the Republic of Ireland, Europe, Hong Kong, China and the UAE. The global operator recently reported a record turnover of £302m for the last 12 months, as of August 2022, and remains on track with its ambitious investment programme.
With over 40 years in the commercial vehicle market, RH Commercial Vehicles have been a leading dealer the East Midlands. Their experience combined with award-winning customer service, being an official Renault Trucks EV repairer, enables customers to transition to more sustainably fuelled vehicles easily.
ENDS
www.europa-worldwide.com @europaworldwide
www.rhcv.co.uk @RHCVTrucksVans
www.vertellus.co.uk @VertellusCVS
For more information, please contact Grace Pells at grace.pells@rhcv.co.uk or 07468 729 204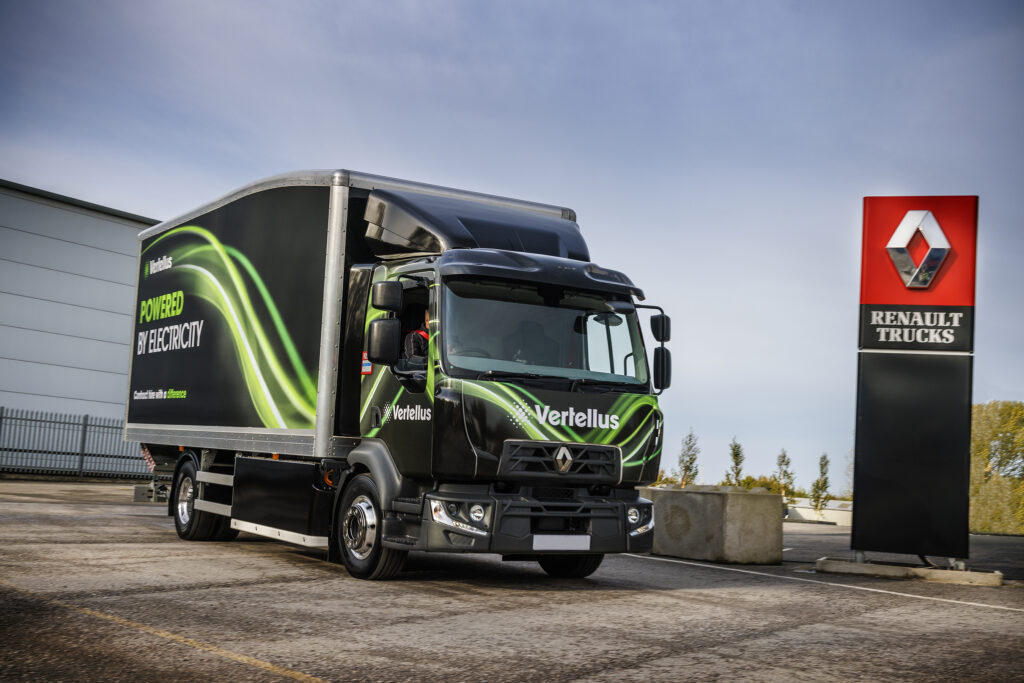 Electrify your fleet with Vertellus today! Get in contact for more information…