Mitchells of Mansfield, the overnight pallet distributor based in Nottinghamshire, has received the UK's first 18-tonne E Tech electric curtain-sided truck from RH Commercial Vehicles, the East Midlands' largest independent Renault Trucks dealer.
Mitchells of Mansfield is a family-run business that started in 1968. In 1995, it became a founding member of Palletways and has also worked with The Pallet Network, Palletline, and The Hazchem Network.
Over the past year, the company has been taking steps toward reducing and offsetting its carbon emissions. New goals have been set to achieve this by 2023, they aim to offset 25% of their carbon, 50% by 2024 and 100% of their carbon by 2026. The addition of the Renault Trucks E-Tech D Wide will significantly help these aims.
Richard Montgomery, Managing Director, commented, "Progression and positive change is a cornerstone of the business. We are doing just that by investing in the latest equipment like the Renault Trucks E-Tech vehicle.
"Our decisions on technology and equipment are based on the reduction of our environmental impact. We want to set the benchmark for the palletised market, by dipping our toes in electromobility, we can prove we are a sustainable business built on trust, sincerity, and responsibility."
The Renault Trucks E-Tech D Wide is the ideal vehicle for urban deliveries and its zero tailpipe emissions qualify it to operate in cities that are reducing their CO2 emissions and improving air quality. Their low noise output also makes them perfect for these areas.
It is fitted with four battery packs which provide 66kW of energy each and the truck is equipped with an onboard AC charger and is compatible with DC fast charging. This allows fast charging of the vehicle to maximise its daily operational range.
A lot of Mitchells of Mansfield's operations are within Nottingham City Centre. The city has launched high-level objectives to have a resilient and carbon-neutral city by 2028. According to A study, 30% of CO2 emissions come from transport. Initiatives such as clean air zones are being researched which can affect freight deliveries.
Richard Montgomery commented, "It is becoming increasingly clear that zero emissions and sustainable transport solutions are an inevitable future in this industry.
"It is important to get ahead of the curve and get used to this method of transportation before it is too late.
"It is a huge investment to decarbonise a fleet but by introducing this truck now, we can determine our next steps in improving our carbon footprint."
Simon Bailey, Sales Executive for RHCV, commented. "The truck will be incredibly reliable to Mitchells of Mansfield; it can keep up with the business demands whilst having the capacity to complete a full day's work on a single charge and emitting zero tailpipe emissions. This also means that it can operate in low-emission zones such as London.
"With it being a curtain-sided vehicle fitted with a tail lift too, means the business can continue to operate quickly and efficiently with speedy load and unload benefits and simplified partial deliveries as they did before on the equivalent diesel-fuelled vehicles."
To ensure safety as well as sustainability, the vehicle has been fitted with the full halo system from SM UK. This includes front, rear and side cameras which provide the driver with a bird's eye view of what is happening around them.
Steve MacDonald MD of SM UK Ltd commented, "Safety on our roads is of utmost importance both in terms of the driver and the vulnerable road user, Sidescan will aid the driver with blind spots whilst Halo will activate and illuminate when in low light situation or turning left"
Combined with cameras, sensors and audible warning systems, the chances of a collision occurring are drastically reduced, making the roads safer for drivers and vulnerable road users.
Steve also stated, "With most local authorities now aiming to create cleaner air zones, what Mitchells of Mansfield has done is start the process of reducing their own carbon footprint with the purchase of The Renault Trucks E-Tech D"
Richard Montgomery commented, "Ensuring the safety of the driver and those around them is paramount to the business. The installation of the halo system will ensure that the driver can operate safely and keep other vulnerable road users, especially in built-up areas out of danger."
The vehicle will be used for localised deliveries and collections. Richard Montgomery commented, "It has been fantastic to work with RH Commercial Vehicles on such a drastic change. We have had a great working relationship for many years, so we are confident that we are in safe hands as the electric truck goes into operation.
"Having the first truck of its kind in the UK is an incredibly exciting development for the business and I look forward to seeing how it performs in the business."
Paul Pearson, Commercial Director of RH Commercial Vehicles commented, "It has been great to work with a company that shares our commitment to innovation and consideration for the world around us. I believe this vehicle will be an asset to the business, and we will be working closely with Mitchells of Mansfield as they discover the potential of electric mobility."
Renault Trucks maintain its goal for all its vehicle sales to be completely fossil free. To support these ambitions, their 360° support for customers who branch into electromobility is readily available allowing firsts such as this.
ENDS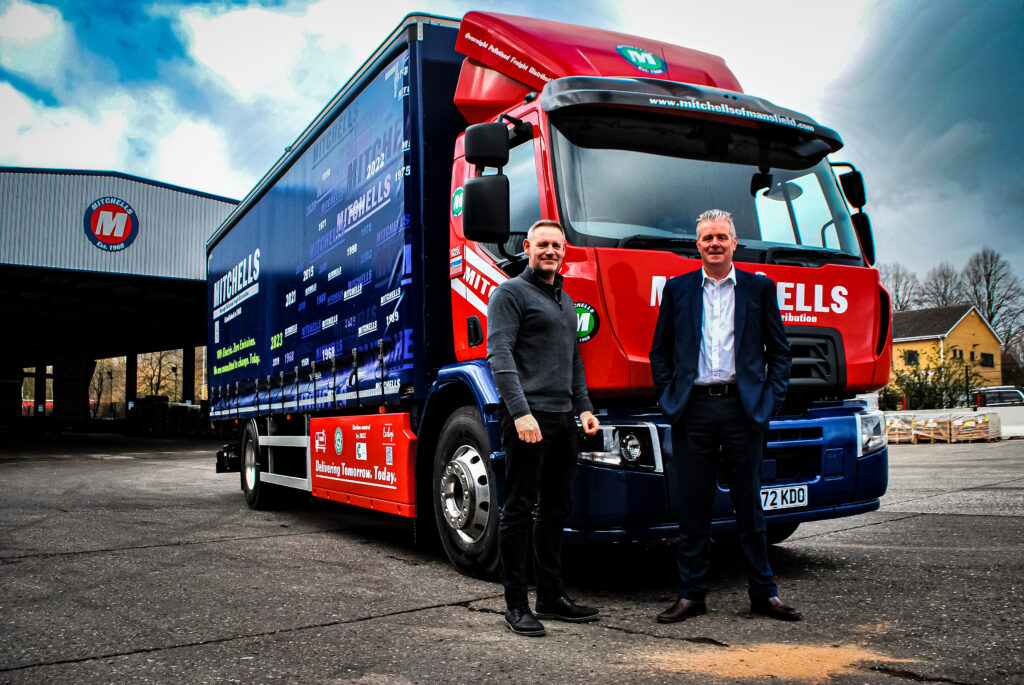 Media Contacts:
RH Commercial Vehicles: Grace Pells, communications executive. E: grace.pells@rhcv.co.uk. T:0115 976 547. M: 07468729204.
SMUK:
Note to editors:
Renault Trucks E-Tech D Wide Technical specifications:
GVWR of 18 tonnes
Wheelbase: 6.100mm
Two electric alternating current synchronous motors
Max Torque of electric engines: 850Nm
Two-speed gearbox
RH Commercial Vehicles:
RHCV is the one-stop shop for commercial vehicle sales, rentals, parts, servicing, and repair of vehicles from 3.5 tonnes to 44 tonnes. They are an official Vertellus partner and licensee for sustainable contract hire. They are test station approved, run DVSA tachograph centres and run 24-hour breakdown recovery with fully equipped vans and skilled operators. Each workshop has an extensive parts department. The Nottingham depot has a state-of-the-art paint shop and is an official Renault Trucks service and repair depot.
Mitchells of Mansfield:
Rooted in family values, Mitchells of Mansfield has been an overnight pallet freight distributor based in Nottinghamshire since 1968. They specialise in overnight pallet delivery, collection, and courier services to and from most UK destinations, Ireland, The Channel Islands, and mainland Europe.
SMUK:
Leeds-based firm SM UK Ltd are the UK's leading auto electrical installation specialist… providing the latest in AI cameras, sensors and recording systems along with fitting the trademarked low level lighting HALO system as well as truck door windows.
SM UK Ltd have three main sites including the new Leeds workshop, Tamworth and the recently acquired workshop in Dartford totalling 60,000 sq. ft. Employing 70 mobile engineers nationwide providing the most comprehensive UK wide service to fleet managers and global manufacturers such as Renault.
As a prominent advocate of FORS, CLOCS and DVS, SM UK Ltd have designed and fitted vehicle safety and vulnerable road user awareness systems, all fully type approved to fleets for over 20 years.
The HALO® Kit:
HALO® is one of SM UK's own innovative products, designed and manufactured in-house. The pioneering system provides a visual warning to vulnerable road users that your vehicle is turning.
Sidescan®:
Sidescan® – Is a four-sensor system fitted to the side of a vehicle to detect objects in the nearside blind spot, where cyclists or pedestrians can otherwise go undetected.
An advancement to the standard Sidescan® system, Sidescan® Flex allows the operator to choose from four detection configurations, each with different detection distances and audible visual alerts.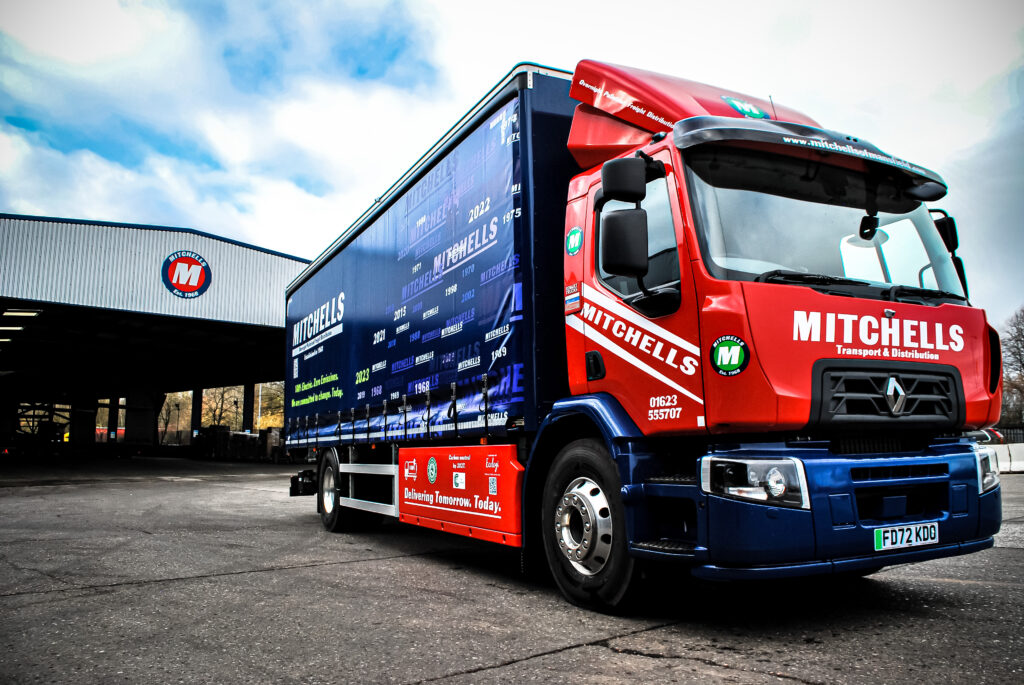 Electrify your fleet today, get in contact now…