One of the leading independent Renault trucks distributors, RH Commercial Vehicles (RHCV), has assisted top logistics firm Europa Worldwide Group by providing ten new high spec Renault T range 6 x 2-440BHP 13 L trucks to enhance their UK arctic fleet.
The team at RHCV's Nottingham Headquarters was approached by Europa at the end of 2021 to assist with the provision of five new T Range Tractor units, which would arrive in early 2022, with five more to follow in May.
All will replace existing vehicles within the 50 strong fleet that are coming to the end of their useful life. Plans are also in progress to supply 14 Renault D Range 18t rigid vehicles in June, and a further 11 T Range tractor units this coming September.
Europa is a rapidly expanding business – whose European road freight hub operates from branches across the UK and the Dartford-based state-of-the-art groupage hub in Kent – which made the switch to Renault Trucks back in 2017.
It has never looked back since it invested an initial £2m in 23 new Renault trucks following a two-year trial and continues to work closely with RHCV on its rolling stock management programme, complete with repair and maintenance contracts.
The high specification of the Renault vehicles, as well as the quality of the service provided by RHCV, was the key driver for Europa in its decision to remain loyal to the brand and the dealership this time round. Once again, Europa's choice of both the T and D18 models exemplifies the fact that the marque delivers on reliability and innovation whilst also meeting driver needs.
The firm also opted for these vehicles because they meet the rigorous Euro 6 emissions standards required by law to reduce the environmental impacts of fossil fuelled vehicles. Renault continues to invest in cutting-edge engines which reduce fuel consumption and maintenance costs whilst optimising performance; something that cannot be overlooked as fuel prices continue to soar.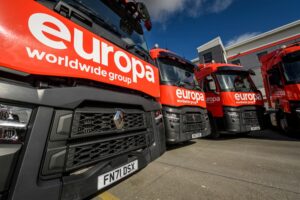 Paul Pearson, Commercial Director at RHCV, commented: "We have a long-standing relationship with Europa and are once again delighted to have assisted them with their fleet requirements. We know that comfort, safety, and design quality continue to be major factors for the firm in making their truck choices.
"Of particular importance on this most recent occasion was the ability to offer their drivers the best cab specifications, since many more are now away from base for longer periods of time. Both model ranges represent the optimum work and home environment, with the necessary creature comforts, ensuring drivers can do their job and then rest in the most effective way.
"Renault is always striving to achieve the very best design balance, alongside technical enhancements which deliver greater overall efficiencies. RHCV is very proud to offer these high-quality and affordable products to brand loyal customers like Europa."
Some of the T Range and D18 rigid vehicles incorporate top-end features in the cab's design, such as a microwave and fridge, allowing users to be self-sufficient when on the road. The extra storage capacity for both food and personal items also makes for a more comfortable living space, plus adding an inverter. This allows drivers to plug in other electrical items from home without overloading the cab's infrastructure.
Paul continued: "With the ongoing shortfall of around 100,000 HGV drivers across the UK, it is these small but very important design features that make a really big difference to drivers. Many more of our customers are opting for Renault because their vehicle ranges really do provide the best possible equipment available on the market for their staff.
"This, in turn, means they feel more valued, because the significant role they play in the supply chain network has been recognised. RHCV's focus has always been on delivering great products and an even great customer experience, and we're proud to play our part in keeping the country moving."
Dan Cook, Operations Director for Europa Road, added: "As part of the expansion of the full and part load unaccompanied business, Europa has increased its artic fleet to support the desire to undertake more inhouse port haulage.
"This means a change to the traditional Europa UK haulage model, where the day starts and finishes at Dartford, and an increase in 'tramping,' meaning the vehicle and driver are away from base for several days at a time.
"For this reason, now more than ever, it is necessary to ensure the most appropriate equipment to reflect comfort and facilities for drivers is provided."
RHCV has been selling, leasing, servicing, and repairing heavy (HGV) and light commercial (LCV) vehicles across the East Midlands for four decades and employs 140 staff. The firm has expanded significantly in recent years, growing from one to six sites across the region (Alfreton, Leicester, Nottingham, Northampton, Newark, and Peterborough). Formed in 1977, RHCV has been a Renault Trucks dealer since 1986 and recently added Isuzu to its Northampton site.