Providing cleaner, greener and quieter waste and recycling collections across Peterborough, the new electric refuse collection vehicles (eRCVs) are part of the council's commitment to make all of its activities net zero by 2030, which includes replacing all council vehicles with low carbon alternatives. 
The new fully electric arrivals are the first Renault Trucks to join the council's 150-strong fleet and are expected to cut emissions by 60% compared with the previous diesel vehicles they replace. This is based upon recharging from the National Grid standard mix.
The procurement process was undertaken by Aragon Direct Services, Peterborough's Local Authority Trading Company (LATCO), which manages the council's environmental services.
Part of the recycling and waste fleet, the new eRCVs will initially work on garden waste collections and will be trialled on other waste streams in the coming months. Collections are transferred to Peterborough's Energy from Waste plant at Fengate, where 85,000 tonnes of residential waste can be converted into electricity to power 16,000 homes.
Peterborough City Council's two eRCVs are the first Renault Trucks in the UK to be fitted with four 94kW battery packs, which offer up to 40% more capacity, ideal to power the longer running times, multiple bin lifts and waste compaction demanded by the intensive refuse collection operation.  The new vehicles are expected to cover 120km* and up to 1,300 bin lifts per day, over a ten-hour shift.
Ian Spence, Director of Operations at Peterborough Limited, of which Aragon Direct Services is part, says:
"These new Renault Trucks E-Tech eRCVs are the first step to a greener fleet for Peterborough City Council, delivering for our residents almost silently with zero tailpipe emissions.  As we transition to a decarbonised fleet, our vehicles need to keep up with the demands of our operation, and the increased capacity of the Renault Trucks 94kW batteries makes the difference."
Featuring CP Davidson Titan refuse bodies, both E-Tech D Wides are equipped with Renault Trucks' low-entry cab, which offers easier and safer access and egress for operators on urban cycles making hundreds of collections a day.
The eRCVs are charged overnight at Aragon Direct Service's Fengate depot, where all maintenance is carried out in-house, following full training on how to work safely on electric vehicles undertaken by the expert team at RHCV.
Driver feedback has been positive:
Quote from the driver.
"The drive is very smooth and powerful and all around, a really nice drive. When on the rounds, it has been very quiet, you can only really hear the bin lifts and the indicators. The local residents seem to appreciate that as diesel collections have always been quite noisy. It's been so quiet I have seen residents running after us with their bins as they don't know we are there."
Councillor Nigel Simons, Peterborough City Council's Cabinet Member for Infrastructure, Environment and Climate Change:
"We are fully committed to reducing carbon emissions in everything that we do as a council and these new electric vehicles will play a key role in this. Residents may notice the new vehicles by how quiet they are. It's fantastic to have them in our fleet and we look forward to monitoring their progress over the coming months."  
Grahame Neagus, Head of LCV and Municipal at Renault Trucks UK & Ireland, says:
"We are delighted that Aragon Direct Services has selected the Renault Trucks E-Tech D Wide for the first electric trucks on Peterborough City Council's fleet. We work collaboratively with all our customers to ensure they are supported at every stage of their decarbonisation journey, and we are pleased to be working with Aragon Direct Services to help them deliver on Peterborough City Council's net zero ambitions."
Paul Pearson, Commercial Director of RH Commercial Vehicles, says:
"I am delighted to see these two trucks begin work in Peterborough. The rollout of the 94kW batteries shows we are making major steps in providing sustainable and efficient solutions for everyone in the transport industry. Sustainability is crucial for customers who provide essential services in urban settings such as refuse collection. It helps their climate goals become even more obtainable.
"As these vehicles are 100% electric and have zero emissions, local residents can benefit from cleaner air and improved quality of life.
"It has been a privilege to work with Aragon Direct Services in the development of the UK's first fully electric trucks with 94kW batteries. Renault Trucks is a pioneer of electric mobility and we are delighted to work together to implement our experience and knowledge with Peterborough Council as they begin to clean up on carbon."
All vehicles on the Peterborough City Council fleet are given appropriate names and, following a competition to name the new eRCVs, the council is proud to introduce Usain Volt and Electric Boogaloo to the city's streets.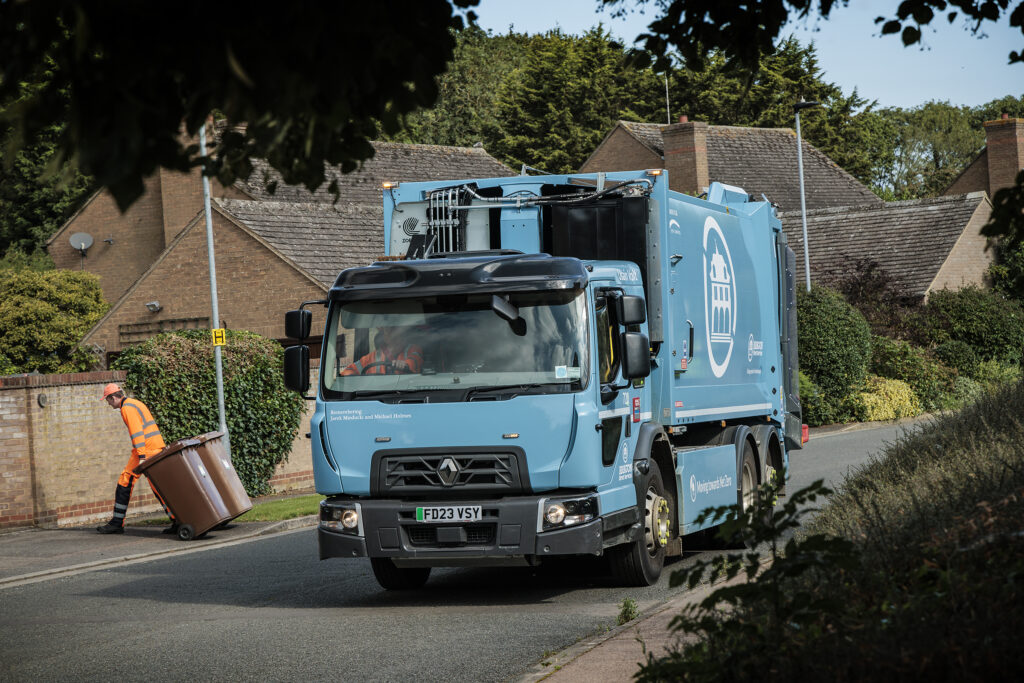 -ENDS-
About Aragon Direct Services
Aragon Direct Services deliver waste and environmental services for Peterborough. They provide a number of services as a wholly owned Local Authority Trading Company of the City Council. Their services include, ground maintenance, commercial waste, street care, property and cleaning, passenger transport, and MOT and vehicle service, maintenance and repair.
About RH Commercials
With over 40 years in the commercial vehicle market, RH Commercial Vehicles have been a leading Renault Trucks dealer the East Midlands. Their experience combined with award-winning customer service, being an official Renault Trucks EV repairer, enables customers to transition to more sustainably fuelled vehicles easily.
About Renault Trucks
Renault Trucks, the French truck manufacturer, has been providing professionals with transport solutions since 1894, from electric cargo-bikes and light commercial vehicles to heavy duty tractors. Committed to energy transition, Renault Trucks offers fuel efficient vehicles and a complete range of 100% electric trucks, with their operating life extended through a circular economy approach.
Renault Trucks is part of the Volvo Group, one of the world's leading manufacturers of trucks, buses, construction equipment and industrial and marine engines. The group also provides complete financing and service solutions.
Key figures:
9,450 employees worldwide
4 production sites in France
1,400 sales and service points worldwide.
59,000 vehicles sold in 2022
Follow us:
For Further Information: contact Grace Pells, Communications Executive:
01156 976 547
07468 729 204