RH Commercial Vehicles hosted the final stop of The Renault Trucks EV Roadshow.
On 31st March, The Roadshow called into their brand-new Head Office at Phoenix Park, Nottingham – as they embark on a tour of the UK mainland. Vehicle test drives also allowed customers to visit RHCV's flagship depot at the Blenheim Industrial Estate, Nottingham.
The show aimed to allow local customers to get to know the technology behind electromobility, test drive vehicles, and learn about the brands' latest developments.
The Roadshow also staged the opportunity for the contract hire venture, Vertellus, to showcase its offering to customers. Here customers met energy transition specialists and learned about the support available to begin their journey towards a zero-emission future.
Customers had the opportunity to learn more about the benefits of switching to electric, particularly for urban operations. There was also the opportunity to test drive two electric refuse collection vehicles, The Master E-Tech caged tipper and panel van, and The Renault Trucks E-Tech D16 ranges.
Customers received the opportunity to learn more about the Renault Trucks E-Tech T and C Range which are available by the end of 2023.
Paul Pearson, Commercial Director of RH Commercial Vehicles, said: "It was an honour to take part in the Renault Trucks and Vertellus EV Roadshow. These events showcase the future of the industry and support our customers throughout the process of switching to electric.
"It was also a great opportunity to raise more awareness of Vertellus which will be a beneficial initiative to assist businesses gradually transitioning to an electric fleet.
"We are proud to be working alongside Renault Trucks as we work towards our goal to be net zero by 2040. Such events hold extreme value as we invite operators into the business where they can meet the team and discover how we can support a smooth transition to a low-emission future.
RHCV has seven sites strategically located sites across the East Midlands, its flagship depot in Bulwell, Nottingham, Alfreton, Leicester, Northampton, Newark, and Peterborough, and has expanded into a new Head Office in Phoenix Park, Nottingham.
They have a proven track record of dealing, leasing, servicing, and repairing heavy and light commercial vehicles and trailers. They have also begun to emerge as a key dealer for electric commercial vehicles.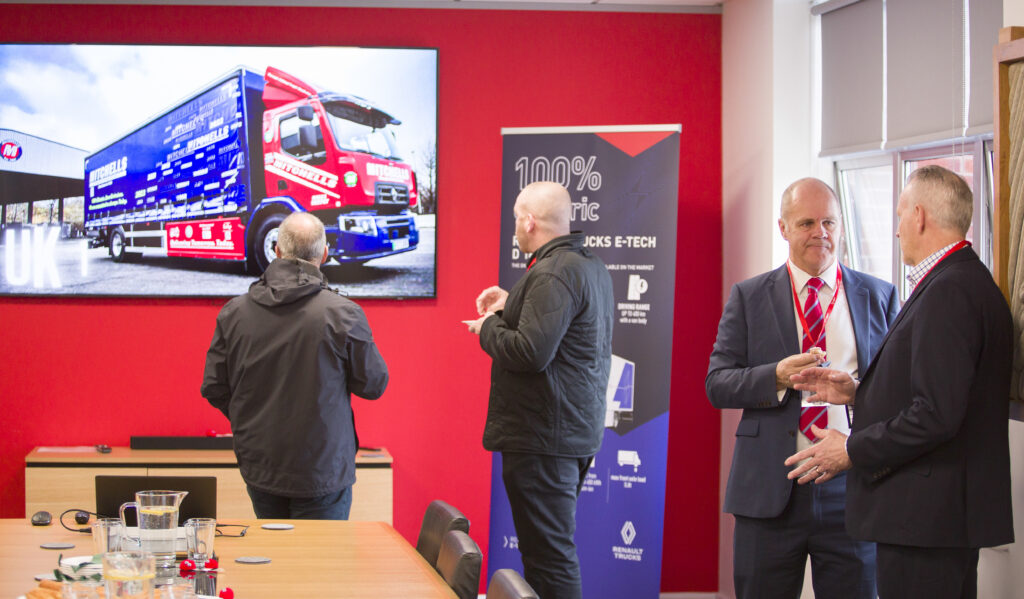 Find out how we can electrify your fleet, contact us now…