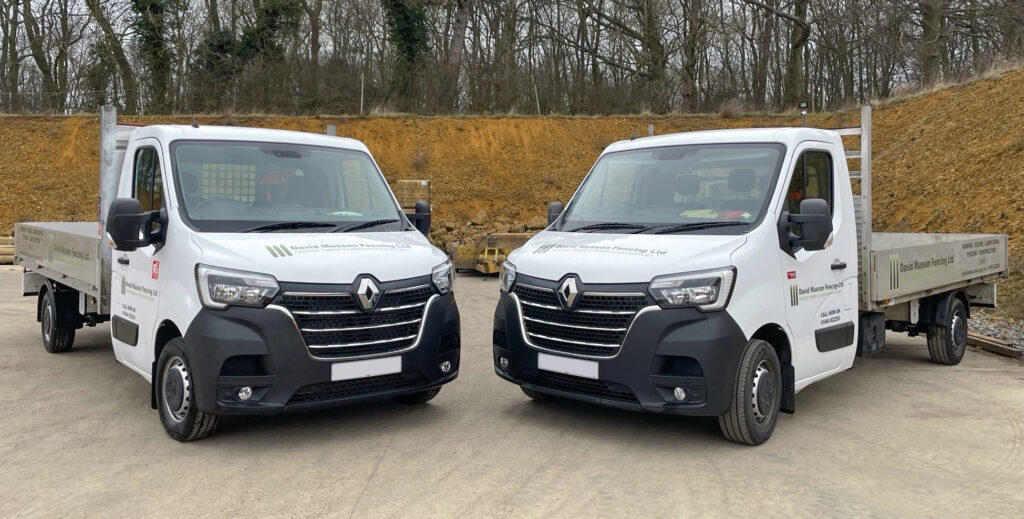 David Musson Fencing is a timber fencing supplier based in Leicestershire. For 40 years, they have been delivering a variety of materials for domestic, agricultural, trade and equestrian use.
Their fleet consists of a variety of trucks and vans to deliver across the country. They approached James Ginnelly at RH Commercial Vehicles to find the perfect van to update their fleet. On this occasion, they purchased two Renault Master 14ft drop-side vans – the first Renault of the fleet.
Tom Barnett, operations, and Transport Manager commented. "I was very impressed with the Renault Master Van. With a payload of a tonne, they are ideal for local deliveries, they have the capacity of covering a lot of miles too. They're useful and reliable and they're a great choice for the fleet."
The vans are fitted with a Diesel 4-cylinder engine with Eco Mode which features engine mapping, torque control, and optimisation of the temperature comfort settings. Qualities such as this have been very surprising.
"The fuel economy has really stood out. We're seeing up to 31.5 MPG return! This is great, especially when considering how often the vans are used every day."
The cab interior features air conditioning, a smartphone mirroring navigation system screen, cruise control, and KALEIDO upholstery in charcoal grey with white overstitching. All interior accessories ensure the drivers' comfort and well-being are maintained.
"The drivers really feel comfortable when on the road and having the cruise control is really useful for our drivers as it brings many benefits such as reduced fatigue."
Overall, Tom was very happy with the service from RHCV, he found the communication from James Ginnelly very good and looks forward to exploring the variety of ranges and services on offer.