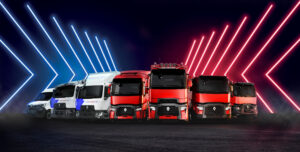 In a UK first, the full Renault Trucks range, including the latest E-Tech vehicles, will be available to view at an exhibition, the inaugural Road Transport Expo (30 June-2 July, NAEC Stoneleigh).
Designed to showcase the breadth of the Renault Trucks vehicle offering as well as its commitment to decarbonise transport through vehicles, technology and innovations that meet the industry's pressing sustainability ambitions. Visitors will be able to view the full range, from its Used standard range, the recently launched Trafic and TCK Evolution ranges, to the full E-tech line-up including the Master, D and D-Wide and an industry-first last mile e-mobility concept, the Renault Trucks E-Tech Master Optimodale.
Switch to electric
Leading the charge, Renault Trucks is fielding a range of fully-electric vehicles from its E-Tech range, allowing visitors to see for themselves the breadth of applications that are already making the switch to electric:
Heading the line-up is the recently launched Renault Trucks E-Tech Master Optimodale, an industry-first multimodal last mile e-mobility concept that leads the way in sustainable logistics solutions. Designed and commissioned by Renault Trucks to help reduce congestion and improve air quality in urban areas, the unique E-Tech Master OptiModale combines three types of electric transportation in one vehicle: a 3.5 tonne LWB L3H1 E-Tech Master van with Low Loader Luton body by Horton Commercials; an eBullitt electric Cargo bike; and parcel-carrying drone from UAVTEK.
Also on display will be national waste recycling specialists, Recycling Lives', 18 tonne D Wide Z.E. skip loader. This 3900mm wheelbase vehicle is the result of a joint project between Renault Trucks and Recycling Lives to co-design a bespoke electric skip loader and is the first of its kind in the UK.  The vehicle has been specified with four 66 kWh battery packs giving an operating range on a single charge of up to 150km and is backed by Renault Trucks' battery performance promise, which guarantees the power available to operate electric vehicles for up to ten years.
At the Expo's Ride & Drive event, a 16 tonne Renault Trucks E-Tech D 4×2, equipped with Bevans box body, powered by four 66kWh lithium-ion batteries, the AC synchronous motor with permanent-magnet technology delivering maximum power of 185 kW, continuous power of 130 kW and maximum torque of 425 Nm, this vehicle can cover 200 – 250km on a single charge.
View the new high specification light commercial vehicle range
Also available to view at Road Transport Expo will be the recently launched Renault Trucks Trafic Red Edition. This high specification light commercial vehicle, available in 2.8-3.1 tonnes, can be fully customised and is the perfect work tool for SME and fleet businesses. The versatile Trafic Red Edition is available in a van, double-cab, floor-cab and combi version as well as Platform Cab and Combi 9 seat options. For complete peace of mind, Renault Trucks is offering a limited-time packaged launch offer (until the end of 2022) including the vehicle, the Start and Drive maintenance contract and financing [1]
An immediate opportunity to reduce fleet CO2 emissions
Last but not least, and one of the biggest draws to the Renault Trucks stand, is the latest Renault Trucks TCK Evolution line-up including a T High 520 Evolution 6×2. Equipped with Renault Trucks' efficient Euro VI Step E 13 litre engines, running on Hydrotreated Vegetable Oil (HVO), a renewable drop in alternative to conventional diesel that offers up to a 90% reduction in greenhouse gas emissions, and an immediate opportunity to reduce fleet CO2 emissions without the need to replace diesel vehicles of Euro VI Step C and later.
Alex Williams, Head of Brand and Communications at Renault Trucks UK and Ireland, says: "We are excited and delighted to take part in the inaugural, Road Transport Expo and to showcase Renault Trucks' full capability for the first time at a UK exhibition. We look forward to welcoming visitors to our stand where experts from our highly experienced team will be on hand to offer detailed information and advice on both the vehicles and enhanced transport solutions including the transition to net-zero and a decarbonised transport sector."