Horizon Specialist Contracting offer specialist work at height solutions, lightning protection and fall restraint systems through installations, inspections, certifications, and maintenance. They work extensively across the UK on many landmarks such as Battersea, Whitehall and locally undertaking the restoration of the Nottingham City Council House clock.
Their fleet is made up of over 30 vehicles that include Renault and Isuzu Trucks, and have had a strong relationship with RH Commercial Vehicles for a number of years.
James Burns, owner of Horizon, said: "It is important for efficiency that our vans are up to date. Our vans typically run for around two and a half years before they are replaced.
"We are also seeing growing demand for our services. To accommodate this, we have also decided to expand the fleet and require vehicles that match the requirements of the business, our environmental policies and the need for reliability."
Having previously worked with James Ginnelly at RH Commercial Vehicles, James Burns approached him again for assistance.
On this occasion, they bought four Renault Trucks Trafic Exclusive vans with the longer wheelbase option of 3.48m.
"We have operated these vans before, and they proved to be very efficient and popular with our drivers for their ease of operation and delivery of our services".
"The longer wheelbases allow for more space compared to alternative makes of vans – this was another reason for opting for the Renault Trafic."
The vehicles come with 130hp and has a max torque of 320Nm. It also has the emission standard of Euro 6 diesel. As well as power and emission efficiency controls, the van also features a number of brake assistance systems, such as anti-slip regulation, hill start assist, and side wind assist as standard.
"Drive-wise, the van is hard to fault. The engineers prefer it over other brands we have used in the past. They are reliable, comfortable, and are a good vehicle to continue using."
The van interior features lumbar adjustable chairs, storage, LED lighting and a DAB radio with an 8" display, USB, Bluetooth and smartphone mirroring. It also has an instrument panel which includes a wireless phone charger, main display 4.2" colour screen, cruise control, driver sleep detection and parking assistance. All these elements ensure the driver's comfort and wellbeing are maintained which in turn, improves safety and efficiency whilst on the road.
All four vans will be used for the lightning protection division in the business to transport materials and equipment to locations ranging from Ministry of Defence sites to schools.
Overall, James Burns is extremely happy with the product and service.
"Throughout the entire process, James was very professional and diligent. He kept us informed at every stage.
"The service was top-notch and was the correct deal for the business. Horizon has had a long history with RH Commercial Vehicles for a number of years and I expect it to continue for many more."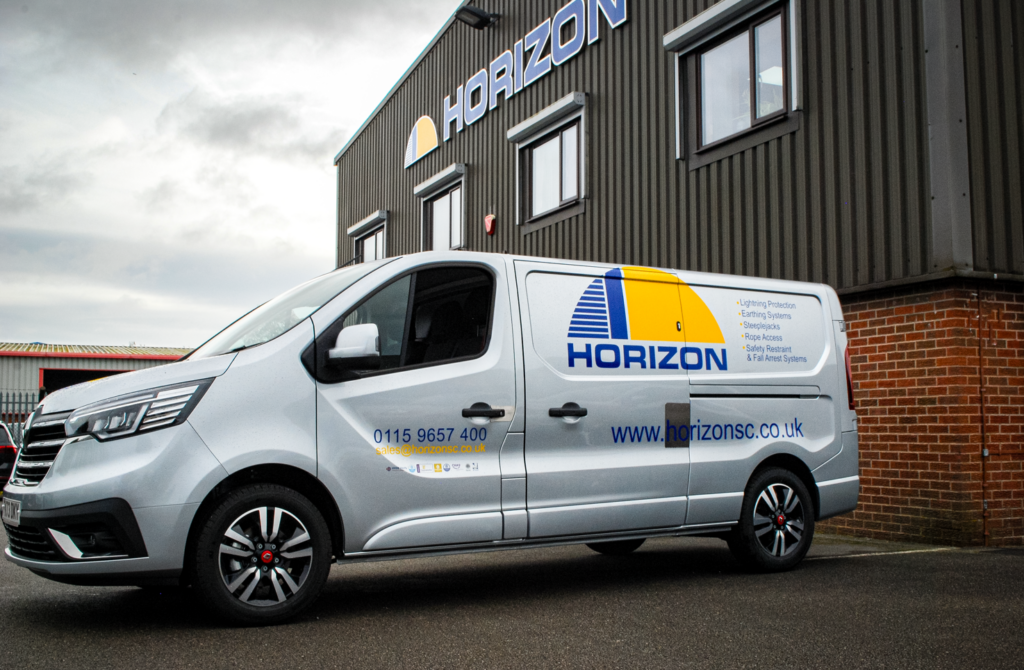 How can we get your business rolling? Get in touch now