Enva is one of the UK and Ireland's leading recycling and resource recovery companies. They use the latest technology to maximise the recovery of waste with the aim of developing a range of high quality, low CO2 secondary materials. In doing so Enva significantly reduces carbon emissions and pressure on the earth's limited natural resources.
To fulfil these activities effectively , they need specially designed, environmentally efficient vehicles with a high payload.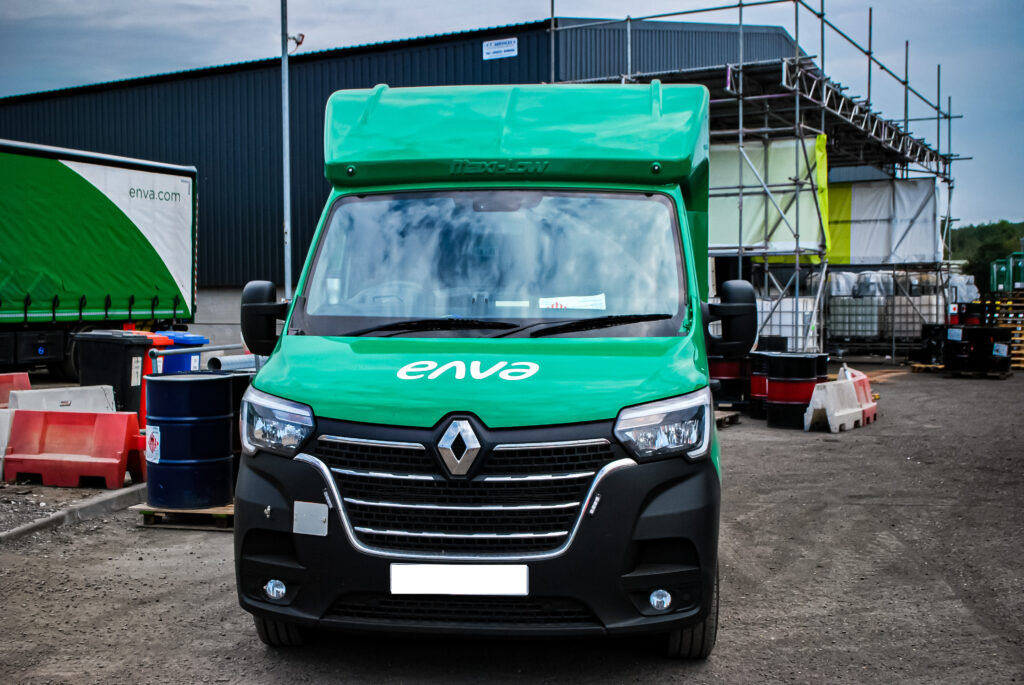 Confident in the strong relationship with RH Commercial Vehicles, they approached the dealer for assistance. On this occasion, they purchased three Renault Master Red edition platform chassis cabs. They also added a body from a local body supplier to which they fitted a winch to the bulkhead.
Alex Rice, National Transport Manager, said, "We needed a vehicle that could carry a lot of weight. By replacing the tail-lift with the winch, the vans can carry almost 500kg more than other brands."
As well as the winch, the van was fitted with a classic low loader ultra-lightweight box with a side loading extra wide shutter. It also had a full closure rear opening and closing non-slip ramp.
The additions have made the vans easier to load without the risk of slips, trips, and falls.
Paul James, Fleet Compliance manager, Enva commented, "It's a great van for getting from business to business, the added features allow equipment to be more manoeuvrable too, making our drivers' lives a lot easier and safer."
The Renault Master Red edition was fitted with Eco-Mode engine mapping and torque control. This optimises fuel consumption. It limits acceleration which enables low fuel consumption in urban areas to which assists with MPG.
Paul James said, "Enva's mission is to protect and preserve the world's finite resources. Having this system in our vehicles support this mission by saving on fuel.
"The vehicles also drive really well, and the drivers love the interior. I've had nothing but positive feedback so far.
"The comfort you get with a Renault Truck is still ever present in their vans. They're comfy, secure and durable. We couldn't ask for much else."
The Master Red interior includes chrome finishing, adjustable driver seats, Kaleido upholstery, air conditioning and more as standard. But to provide their drivers with even more creature comforts, Enva opted for smartphone mirroring navigation system screens, DAB radio and Western Europe mapping.
RHCV values its relationship with Enva and looks forward to watching it grow in the future. Recently, electric vehicle demonstrations have taken place as the company looks to adapt to the changing face of the commercial vehicle industry.
Enva recognises the importance of preserving the environment for future generations. With Renault trucks maintaining their goal of operating completely carbon-neutral fleets by 2040, this relationship can only get stronger.
Need a van? Get in touch…